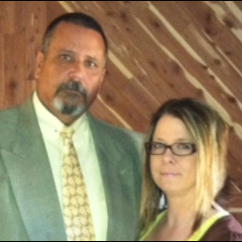 David (& GG) Naylor
"Talk About a Square Peg in a Round Hole"
Evangelist
MisFit Missions is Independent Fundamental Baptist Ministry and David S. Naylor is a full-time Missionary Evangelist who (As the Lord wills and health permits) travels the country preaching the gospel of the Lord Jesus Christ, and testifying of his deliverance from a life of crime, drug & alcohol addiction, an outlaw biker lifestyle, and an 87 year prison sentence. Brother Naylor is also totally handicapped being paralyzed on the left side of his body from the effects of a nearly fatal bilateral stroke in 2009. Brother Naylor gives God alone the glory for sparing his life and providing for him his wife's GG's every need.
Eventually, in 2013, God began to again pull Brother David into another direction, Evangelism. Without hesitation, after much prayer and communing with God on the matter, David and his wife GG accepted the call.
Without any means of outside support but trusting in what God said to do, Brother David resigned his Pastorate in a godly manner and turned over the church, and the Naylor's put their house up for sale.
They got rid of anything weighing them down, and within 7 months of stepping out in faith, MisFit Missions was born. In all honesty, this ministry has been at the heart and soul of Brother David's burden since being saved, God's ability to take any life no matter how sin damaged, and transform it into a trophy of His amazing grace!
School(s):
Other Christian Institution(s)
Distinctives:
Bible: KJV-only
Worship: Traditional/Conservative
Government: Congregational

P.O. Box 5072
Hudson, FL 34674