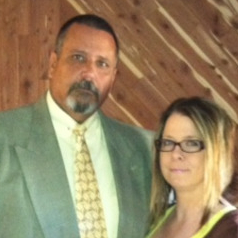 MisFit Missions
"Talk about a square peg in a round hole."
Special Ministry
What is a MisFit?
---
Without Christ, and in a lost state we are ALL MisFits, as without Christ we are the actual enemies of God, (Ja. 4:4; Ro. 5:10)!
Brother David Naylor was saved out of a treacherous outlaw biker lifestyle. Coming from that type of lifestyle he is covered with tattoos from head to toe and remains that way today.
However, as he began to mature in the Lord through prayer, study, and fellowship, God began to reveal His will of sanctification (1 Th. 4:3-4). This was then and still is a process that is in place today for any true believer.
God began to reveal to Brother David that the Church is supposed to be a hospital emergency room for the sin-sick to get well and not a social club for the self-proclaimed righteous.
Every family, every Church, and even many Pastors have a MisFit in their midst. That one who just can't get victory over sin, flesh, and the Devil.
With Satan's attack on the home and family today, divorce and broken homes are the rule today and not the exception, the results of this are damaged lives misshapen by sin with a misconception of who God really is and what He requires.
God can and will take a MisFit whose life has been misshapen and damaged by sin, save them and mold and make them into a trophy of His grace. (Jer. 18:3-4);(2 Ti. 2:21)

P.O. Box 5072
Hudson, FL 34674