New Life Baptist Church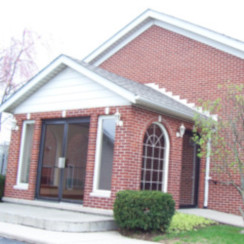 New Life Baptist Church
Church
Serving the Lord here in Franklin, Indiana, since 1981!
We are an independent Baptist church approximately 20 minutes south of Indianapolis, IN, in the town of Franklin, Indiana. Our church is characterized by strong Bible preaching and Godly, conservative music. A fully-staffed nursery is available for all services. All services are interpreted for the deaf. We welcome you to visit us. Visit our Facebook page and website for more information: www.nlbaptist.com
Service Times
Sun 10:30AM
Morning Worship
Sun 6:00PM
Evening Worship
Wed 7:00PM
Bible Study, Teens, Patch
Distinctives
Worship:
Traditional/Conservative
Government:
Congregational
Contacts
Address:
751 Nineveh Road
Franklin, IN 46131
Mailing Address:
P.O. Box 438
Franklin, IN 46131
United States
Flag Inappropriate Content
If you see inappropriate, false, misleading, or otherwise objectionable content in this profile, click below to notify us immediately. We will review as soon as possible and take appropriate action.
Thank you for helping us protect this site and our users.