Resurrection Baptist Church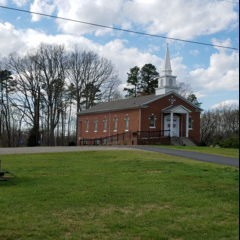 Resurrection Baptist Church
Church
"Preaching the Word" to the World!
We are an independent, fundamental,King James Bible preaching, missions supporting church in Kannapolis, NC, just north of Charlotte. We are a family oriented, old fashioned church singing the old hymns and preaching the good news without compromise. We have a great youth program where our priority is to teach the children God's word. We don't use gimmicks to fill the pews. If you are in the area and looking for a traditional church, where contemporary is not a second thought, I encourage you to bring yourself, your family and friends and come worship with us!
Pastor
Tim B. (& Sherry) Jones
Service Times
Sun 6:00PM
Sunday Night Worship
Wed 7:00PM
Wednesday Night Prayer Meeting
Fellowships
Independent Fundamental Churches of America
Distinctives
Worship:
Traditional with Modern Hymns/Choruses
Government:
Congregational
Flag Inappropriate Content
If you see inappropriate, false, misleading, or otherwise objectionable content in this profile, click below to notify us immediately. We will review as soon as possible and take appropriate action.
Thank you for helping us protect this site and our users.