Southside Baptist Church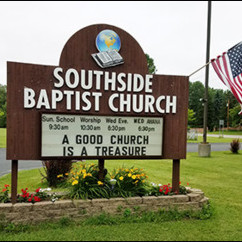 Southside Baptist Church
Church
Communicating Truth, Cultivating Grace
The mission of Southside Baptist Church is to bring glory to God by being a disciple making congregation. We believe that everyone should have a personal relationship with Jesus Christ. The evidence of that relationship is a fervent love for Jesus Christ.
The fruit of a love for Christ will be the desire to grow in the knowledge and understanding of the Person and Work of Jesus Christ. Through a working knowledge of the Word of God a deepening relationship with the Church of Jesus Christ can grow into a passionate desire to see others come to know Jesus Christ as personal Savior. It is our desire that you will join us in this mission as God the Holy Spirit directs you in your search for a church.
Pastor
Jerry (& Arleen) Brantham
Service Times
Sun 10:35AM
Morning Worship
Distinctives
Worship:
Traditional with Modern Hymns/Choruses
Government:
Congregational
Contacts
Flag Inappropriate Content
If you see inappropriate, false, misleading, or otherwise objectionable content in this profile, click below to notify us immediately. We will review as soon as possible and take appropriate action.
Thank you for helping us protect this site and our users.